NFL Overview – How The Season Plays Out
Betting on NFL teams brings excitement and potential profits, and like most sports, improving your knowledge can help your money go further across the season.
To a newcomer, the NFL structure may seem complex, but it becomes a lot easier to understand once you break it all down. The big question "how many NFL teams are there" is one we get often.
The answer? The number of all NFL teams comes to 32 competing in total (three New York NFL teams), and these are broken down into two conferences and four divisions.
AFC & NFC
The 32 teams in the NFL are split into two conferences known widely as the AFC and NFC.
Each conference is then split into four divisions with four teams, and those four teams play each other twice throughout the season. Once at home and once away.
The next part of the season gets slightly complex, so we'll spell it out in simple terms for you.
This part is known as the Team Schedules.
Allows all teams in the NFL to play all other divisions once every 3-4 years.
Based on a rotation schedule and each team's performance of the previous year.
Full Conference and Division structure for the NFL: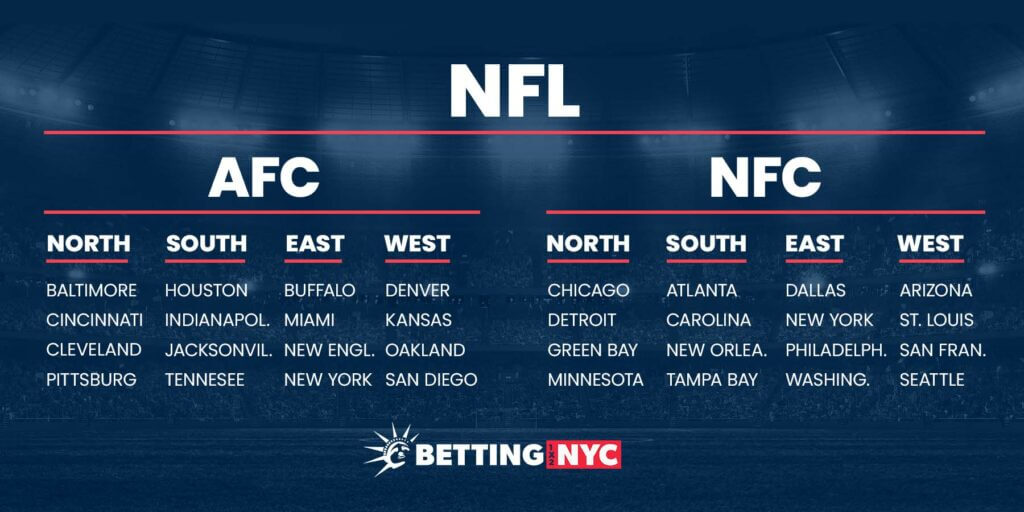 American Football Conference (AFC, 16 teams)


South Division (4 teams)
East Division (4 teams)
West Division (4 teams)
National Football Conference (NFC, 16 teams)


North Division (4 teams)
South Division (4 teams)
East Division (4 teams)
West Division (4 teams)
All NFL Teams List & Team Map
The NFL started with 10 teams back in 1920, but now we have a full collection of 32 professional teams all competing for that coveted prize – the Super Bowl. We've compiled the NFL teams list below to help find all NFL teams, home stadiums, stadium sizes, and divisions.
| | | | |
| --- | --- | --- | --- |
| Team name | Home Stadium | Capacity | Division |
| Baltimore Ravens | M&T Bank Stadium | 71.000 | AFC North |
| Cincinatti Bengals | Paycor Stadium | 65.500 | AFC North |
| Cleveland Browns | FirstEnergy Stadium | 67.890 | AFC North |
| Pittsburgh Steelers | Acrisure Stadium | 68.400 | AFC North |
| Buffalo Bills | Highmark Stadium | 71.600 | AFC East |
| Miami Dolphins | Hard Rock Stadium | 64.760 | AFC East |
| New England Patriots | Gillete Stadium | 65.880 | AFC East |
| New York Jets | MetLife Stadium | 82.500 | AFC East |
| Denver Broncos | Empower Field | 76.125 | AFC West |
| Kansas City Chiefs | Arrowhead Stadium | 76.420 | AFC West |
| Las Vegas Raiders | Allegiant Stadium | 65.000 | AFC West |
| Los Angeles Chargers | SoFi Stadium | 70.240 | AFC West |
| Houston Texans | NRG Stadium | 71.995 | AFC South |
| Indianapolis Colts | Lucas Oil Stadium | 67.000 | AFC South |
| Jacksonville Jaguars | TIAA Bank Field | 67.810 | AFC South |
| Tennessee Titans | Nissan Stadium | 69.140 | AFC South |
| Chicago Bears | Soldier Field | 61.500 | NFC North |
| Detroit Lions | Ford Field | 65.000 | NFC North |
| Green Bay Packers | Lambeau Field | 81.440 | NFC North |
| Minnesota Vikings | U.S. Bank Stadium | 66.860 | NFC North |
| Dallas Cowboys | AT&T Stadium | 80.000 | NFC East |
| New York Giants | MetLife Stadium | 82.500 | NFC East |
| Philadelphia Eagles | Lincoln Financial Field | 69.180 | NFC East |
| Washington Commanders | FedExField | 82.000 | NFC East |
| Arizona Cardinals | State Farm Stadium | 63.400 | NFC West |
| Los Angeles Rams | SoFi Stadium | 70.240 | NFC West |
| San Fransisco 49ers | Levi´s Stadium | 68.500 | NFC West |
| Seattle Seahawks | Lumen Field | 69.000 | NFC West |
| Atlanta Falcons | Mercedes-Benz Stadium | 71.000 | NFC South |
| Carolina Panthers | Bank of America Stadium | 75.520 | NFC South |
| New Orleans Saints | Ceasars Superdome | 73.208 | NFC South |
| Tampa Bay Buccaneers | Raymond James Stadium | 65.620 | NFC South |
We have a handy NFL Teams List Map to show you exactly where they are located, including the local New York football teams, along with the colors representing each team's Division.
How Many Teams Make The NFL Playoffs?
A total of 14 teams advance through into the NFL playoffs once all the games have been played in the regular season. The postseason is when things get a lot more interesting as those 14 teams begin to put their eyes on the Super Bowl final.
The new format of 14 (up from 12 teams in the past) means the second-seeded team in the conference no longer gets a bye and must take part in the first round of playoffs alongside the other five teams. Here is how the playoffs work in a simple step-by-step list:
Seven teams qualify from each conference
The number one seed in each conference earns a bye and a home game
The next three seeded teams play against three wild cards in the first playoff round
Wildcards are based on the winning percentages during the season
Both Conferences then play through the playoffs
The top team from each Conference then meet the other in the Super Bowl
Wildcard Week – AFC & NFC

The NFL playoffs now kick off with what is known as "Wildcard Week", a chance for the lower seeded teams to get themselves into the latter stages of the postseason.
We know that only the top team from both the AFC and NFC gets the automatic bye into the second round of the playoffs, so let's explain the structure of each round to show you how the teams match up.
Top Seed – Automatic Bye
Seed 2 vs. Seed 7
Seed 3 vs. Seed 6
Seed 4 vs. Seed 5
Divisional Round – AFC & NFC
Top Seed vs. Winner of Seed 2 vs. Seed 7
Winner of Seed 3 vs. Seed 6 vs. Winner Seed 4 vs. Seed 5
Conference Championship – AFC & NFC
Two Winners of the Divisional Rounds to determine the Conference Champion
Super Bowl – AFC vs. NFC
Two Winners of the Conference Championships play in the Super Bowl
Before the season begins, the Super Bowl destination is decided to ensure fairness
Key Takeaway – Betting on NFL Teams
Betting on NFL teams is all about being smarter and following the odds rather than your heart.
We all get caught up in the belief that our team will take the win against any opponent, but profitable betting requires a different outlook and one that puts any allegiance aside.
Teams such as the New England Patriots have a deep history of winning the Super Bowl, but winning bets is not just about backing the correct Super Bowl winner.
There are many betting lines and markets available to find high-value bets, and that includes betting on all NFL teams.
Understanding NFL rules and how to read NFL odds helps to improve your betting. To add to that, we give you all the information you need for NFL team including the local NY Giants, NY Jets, and the Buffalo Bills.
So let's fill you in on those three local teams and a bit of NFL history.
Regional New York NFL Teams
There is never a dull moment when talking about the regional New York football teams in the Empire State.
Why? Ever since the Giants and Jets moved to New Jersey to play their games at MetLife Stadium, opinions have been divided on which teams are truly based in New York.
The general consensus is that there are still three New York Football Teams, as this is where they were founded and established their fanbases. Those are New York Giants, New York Jets and the Buffalo Bills.
We will touch upon the successes and famous names to grace the Giants, Jets, and Bills later on, but for now, here are the key team facts.
| | | |
| --- | --- | --- |
| NFL Teams | Founded | Super Bowl Facts |
| New York Giants | 1925 | Won in 1986, 1990, 2007, and 2011 |
| New York Jets | 1960 | Won in 1969 against the Baltimore Colts |
| Buffalo Bills | 1960 | Lost four Super Bowls in a row in the early 90s |
Under the Microscope – NFL History & Team Performance

The NFL never ceases to amaze. Every season brings action, shock results, and a sheer determination to reach the postseason playoffs.
On top of the big expectations, there is also a deep NFL history that helps to set the scene when betting on this famous sport. Let's look under the microscope at some of the standout details we have witnessed over the years.
New York Football Teams – Legacy & Past Performances
NFL's New York football teams have enjoyed time at the top, thanks to various Super Bowl wins across the years.
The Giants and Jets have both lifted the Vince Lombardi trophy, while the Bills lost out four times on the bounce back in the 90s and are still yet to taste true success.
Buffalo Bills
The Bills are the team to beat out of all the New York NFL teams right now, but as we know, things can change quickly.
Famous for winning four Conference Championships in a row and also losing four Super Bowls in a row is something they want to change in the near future.
NY Giants
The longest-standing out of the three New York football teams, the Giants have a long list of accolades to their name. Multiple Conference Championships throughout the years show their dominance, but it's the four Super Bowls that sit proudly in the Giants' trophy cabinet.
NY Jets
Arriving on the NFL scene alongside the Buffalo Bills in 1965, the Jets managed to clinch a Super Bowl in 1969 but have failed to replicate the feat ever since. The Jets enjoyed an era of progress in the early 2000s but are struggling to find form in recent years.
Famous NY Players & NFL Team Rivalries
New York football teams have never been short of a legendary NFL name. From the current era to way back in the glory days of the Giants. We have picked out a couple of the most famous names, then and now, who grew up in New York.
Rob Gronkowski
Chandler Jones
Saquon Barkley
Art Monk
Sid Luckman
There is no shortage of heated and entertaining rivalries as you look back at NFL history, but some stand out more than others. Each of the rivalries below ranks among the game's most heated and controversial matchups. For many fans, it's more than just a game!
Steelers vs. Ravens
Packers vs. Bears
Giants vs. Eagles
Raiders vs. Chiefs
Jets vs. Patriots
The Big Debate – The Best-Ever NFL Teams
The discussion of who the best-ever NFL teams are and the finest performances to have ever been witnessed on the football field continues. It's not hard to argue that the likes of the Green Bay Packers, New England Patriots, and Pittsburgh Steelers all deserve a mention.
All of them have had their fair share of time in the limelight, but it's the 1962 Green Bay Packers that take the claim of the best team of all time, evolving the game as we know it today under the leadership of legendary coach Vince Lombardi.
Below is a list of teams that have stood the test of time throughout NFL history:
New England Patriots
Pittsburgh Steelers
Dallas Cowboys
San Francisco 49ers
Green Bay Packers
New York Giants